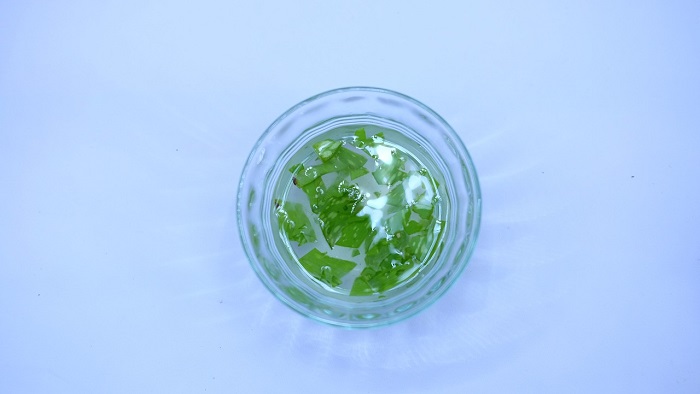 If you want your aloe vera gel to last, you can find a number of ways to do so. You can keep the leaves preserved longer than the gel, provided they are kept in the freezer. How you store the for use depends on how you will be using it.
An aloe vera leaf can be kept in the refrigerator for two weeks or in the freezer, stored in airtight bags, for up to six months. After you extract the gel from the leaf, you should generally use it immediately. However, if that is not possible, you can still store the gel separately in the refrigerator for about ten days. Add some lemon juice to prolong the freshness.
You can also keep your gel for a longer time by storing it in the freezer in ice cube trays. Adding vitamins C or E with the gel also help with preservation. If you use the gel topically, you can maintain it longer by adding essential oils, such as lemon, lavender, rosemary, or tea tree oil.
How to Use Your Homemade Aloe Vera Gel
Now that you know how you can preserve the gel, you can use the gel longer for a number of essential uses. Some suggestions appear below.
Dab aloe vera gel on bug bites, sores, bruises, wounds, for pain relief and faster heating times.
Use the gel to nourish and hydrate your hair by making a lathering and luxurious type of shampoo. Simply combine one part of liquid castile soap with one part of aloe vera gel. and include a few drops of an essential oil.
If you make your own soap, replace the water used to make the product with aloe vera gel. You will see a big difference in the looks and softness of your skin.
You can also use the gel for making a home-made shower gel or face cream.
Save and store the gel for dental care – rub some aloe vera gel on sore gums. The jelly-like substance soothes and heals tender gums.
Use the gel to treat any wounds or enhance your dog's health. You can apply the gel to a wound site or add some gel in your dog's diet to upgrade its nutrition.
Extracting the Gel for Home Use
When you initially extract the gel, stand the aloe leaf, with the cut side down, in a glass for at least 15 minutes to permit the sap in the plant to naturally drain. After disposing the sap, take a spoon and scoop the gel. Place the gel in a jar and seal it, storing it in the fridge until you need it.
Preserving the Leaf
Over time, the gel will turn brown. To keep this from happening as soon, cut a vitamin E capsule, squishing the oil from the capsule into the gel. If you plan to store the leaf, it will wither after about a week, when it has not been refrigerated. Try to use it soon after you harvest it.
Keep Your Gel Longer in an Airtight Container
When keeping a homemade aloe vera drink, you can typically use the beverage (when refrigerated) for up to seven days. Add aloe vera gel to your favorite vegetable or fruit juice to realize optimum health benefits. When storing pure aloe vera gel, always to do so in an airtight type of container. While commercial products feature their own containers, you will need to purchase you own container if you store the gel yourself. Airtight containers keep out both water and air.
Find a Dark and Cool Space
Preserving the gel means keeping it somewhere at room temperature or cooler. Place the gel, preferably, in a darker space if you wish to extend its use. While the gel will not degrade in the sun's light, it still should be kept in a shaded location when it is not being used.
Don't Use Any Aloe Product Past the Expiration Date
Always remember to keep the lid shut on your aloe vera gel's container when it is not in use. The gel will begin to dry out pretty quickly if it is not stored properly. If you have any commercial product that contains aloe vera gel, throw it out when it reaches the expiration date.
Some of the Beauty and Health Benefits
When you look at the beauty and health benefits of using the gel, you naturally will want to keep it around as long as possible. Aloe vera contains the vitamins A, C, and E, all which are antioxidants. It also contains choline, folic acid, and vitamin B12.
Using a Homemade Gel as a Makeup Primer
If you want to use the gel as a makeup primer, always add a natural preservative, such as a form of vitamin E or vitamin C. Place the gel in a blender with the preservative, and blend the mix on high. The gel appears foamy before settling.
Use the Gel Longer by Adding a Natural Preservative
Pour the gel into a container that has been sterilized and keep refrigerated while being used. By including a natural preservative, the gel will last several months. Without the preservative, you can use the gel about a week or two.
Adding Vitamin C or E
When using natural preservatives, you need to add one of the following:
1. For every liter of aloe vera gel, add 8 grams of vitamin C in crystalline form (not chewable tablets or effervescent tablets) or 6,000 IUs of vitamin E oil. Remove the gel from the aloe leaf and cube it before adding it in a blender. Next, include the vitamins and set the blender or food processor at low-speed.
2. Put the mix preferably in glass jars. Fill jars to capacity before adding the gel/natural preservative combination. The gel, when processed this way, should last as long as six to eight months. If any of the gel cubes remain, place them in ice cube trays in your freezer, so you can keep them on hand for emergencies.
Stabilizing the Gel Commercially So It Will Last Longer
The gel will last longer if stabilization is implemented when harvesting the plant commercially. In the commercial marketplace, the gel is stabilized, or protected from oxidation, which makes it more potent and nutritional. A manufacturing technique, known as a cold process, is followed. During the cold process, the temperature does not reach as high of temperature as when the gel is pasteurized – thus the name. Most commercial aloe vera juices are made from a gel that has been cold-processed.
One Final Note about Preservation
If you want to use the natural gel directly from the leaf, you must take a different approach. As long as you can use a natural preservative, the gel can last quite a while. Keep your gel preserved primarily with the use of vitamin E or C and always store it in a cool and/or dark area. A container with an airtight seal will keep out any excess water and prevent the gel from drying out as quickly as well.
Once you start processing the gel for home use, you will start learning some more tricks about preserving aloe vera gel. The idea is to ensure the density and purity of the gel so it can be used for topical applications and in healthy shakes and smoothies.
Aloe Vera Uses for the Hair and Scalp
52+ Amazing Uses for Aloe Vera